If you've seen my personal amateur radio web site (N4GN.com), chances are you probably already think I'm a ham radio nut. I guess that's true! But I do have many other interests . . .
I live in Louisville, Kentucky, U.S.A.–home of the Kentucky Derby horse race, the Louisville Slugger baseball bat, and Muhammad Ali. I was born in Louisville, and I've lived here nearly all my life. The only exception was a little over a year in the mid-1980s, when I worked for a defense contractor in Cleveland, Ohio. The job was fine, but I was ready to get out of Cleveland after two nasty winters!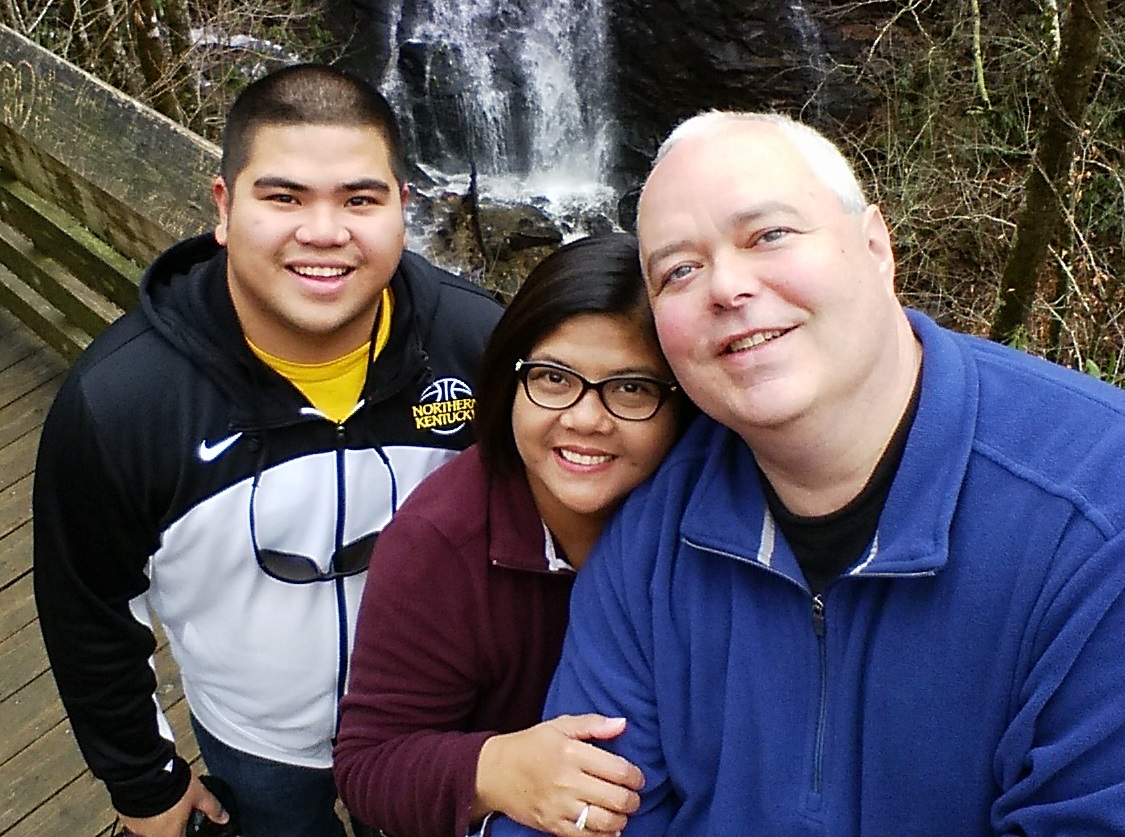 In January, 2002, I met a beautiful young lady in the Makati City (Metro Manila), Philippines. Her name is Joana, and she makes me very happy. Everyone who meets her comments about how sweet she is! We were married on 04 October, 2003, in Tagaytay City, Philippines. Joana also has a terrific son, Phivocs, from her previous marriage. He's really a fine young man. After nine months of immigration paperwork, Joana and Phivocs were finally able to immigrate to the United States on 16 July, 2004.
Although I've lived in the same city most of my life, I really enjoy seeing the rest of the world. I've been to all fifty U.S. states at least twice, and most of them many more times than that. I've traveled extensively throughout Europe, Asia and the Caribbean. I've also spent a little time in various parts of South America, Africa and the Pacific. Someday, I hope to qualify for membership in the Traveler's Century Club.
Since late 2012, I have really gotten into bitcoin, other cryptocurrencies and related blockchain technologies. I'll be posting a lot more about these topics on this blog.
I consider myself very blessed to have grown up in a loving, supportive family. Mom passed away in 2010, but Dad still lives here in Louisville, and I usually get to see him at least a couple times a week when I'm in town. My sister is married and has two terrific boys. They're adults now, but I still enjoy being "Uncle Tim" for my nephews.
I earned my Electrical Engineering degree from Speed Scientific School at the University of Louisville. Now I'm a wireless architect in the Corporate Information Services group at UPS. If it's a wireless system or device at UPS, chances are I'm involved with it one way or another–land mobile radios, air-ground radios, data radios, wireless LANs, satellite systems, cellular devices, RFID tags, aircraft CNS systems, and so forth.
Among many other things, I am responsible for starting JetComm, a very small division of UPS that provides air-ground communications and related services to other airlines in addition to UPS. We operate our own air-ground radio network, which covers the U.S. and many international locations. I am also responsible for representing the interests of UPS in a wide range of wireless regulatory issues. This means that I get to spend a fair bit of time in places like Washington, D.C., Montreal and Geneva–three of my favorite cities. My job has two great benefits–it allows me to travel around the world and it helps pay for my ham radio addiction! For anyone who might be interested, my résumé is available (PDF format).
I am a member of Fern Creek United Methodist Church, where I chair the Finance Team and help out as an usher or with some of the technical geeky stuff from time to time. It's hard to believe I've been attending here for more than 40 years now!
Before I met Joana, I was trying to teach myself Spanish. Unfortunately, I'm still not very good! I just don't have the time to practice it as much as I should between trips to various Spanish-speaking countries. Now my new language priority is going to be learning Tagalog, but I find it rather confusing since Tagalog borrows heavily from Spanish at times, but often in unexpected ways. For example, how can the word "seguro" mean "surely" or "absolutely" in Spanish, but "siguro" in Tagalog means "maybe"?!