OK, it's been FOREVER since I've updated my blog. Sorry about that. Life's been a little busy recently. Today I checked another item off my bucket list, so I figured this would be a good time to try to get back to updating the blog.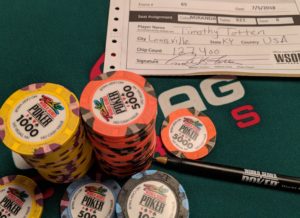 Today, I entered the World Series of Poker Main Event. Now, I've played three other World Series tournaments in the past three years, and with some reasonable success–I've cashed in two of the three events. But the Main Event is something special. Quite simply, it's the best poker tournament on the planet. Sure, there are high roller events now with bigger buy-ins. And there are small buy-in tournaments that have more entrants. But the Main Event is still the perfect combination of a big field (7000+ entrants) with a big prize pool (every entrant ponying up $10,000 to participate) and a great structure (2-hour blinds, 50,000 starting chips). Really, it's the only event that EVERY serious pro is sure to have on his or her calendar.
Everywhere you look at the WSOP, you're bound to see a poker pro that you recognize from TV. And that's not to mention a few movie stars, sports celebrities, and even the Olympian with the greatest gold medal count ever.
So today, I jumped into day 1B of the Main Event. The field is so big that there are three different "day ones" at the Main. I chose the second of the three.
I was pretty happy with my table draw. I did have four strong pros, including one WSOP bracelet winner and another guy with more than $2 million in lifetime major tournament winnings. But there were also a couple other first-timers, and an unknown "regular" who seemed pretty weak.
My basic strategy for Day 1 was to 1) avoid catastrophes, 2) focus on hands with robust equity, and 3) get maximum value when I'm pretty confident I'm ahead. I think I did pretty well on all counts. There were a few hands where I could have done better, but overall, I'm pretty happy with how I played.
As an example, on the very first hand of the day, there was a raise, a three-bet and a four-bet pre-flop. I had 99 in the small blind, which is arguably worth a call on the hopes of flopping a set (three of a kind). But one of the worst catastrophes in poker is flopping a set when someone else flops a better set. It's just a scenario where you are guaranteed to lose a lot of money, and that's the kind of cooler you really want to avoid early in a big tournament. So in this case, I just folded. The original raiser called, so we got to see a flop, which came K9x. I would have flopped middle set. But as the hand played out, it was pretty obvious I would have been up against either AA (which would have earned me a lot of chips) or KK (which would have cost me most of my stack). So I'm pretty happy I folded. That was my basic approach to Day 1–stay out of trouble. As the old saying goes, you can't win the tournament on Day 1, but you can certainly lose it.
After that inauspicious start, I settled in and just tried to maximize the value I could get from whatever situation I found myself in. The first two levels were relatively un-eventful. I never really flopped much of anything. Finally, in the third level, I won a nice pot from the big blind with T6 when I flopped AT4 and turned a T against a couple of guys who had big Aces. I probably could have squeezed out a little extra value on the river, but I was just happy to win a big three-way pot that made me the table chip leader. That was a title I held on to for the rest of the day.
After that, I mostly just tried to put the pressure on everyone else, while giving up if it was obvious I was up against someone with a better hand. As they say, easy game. Really, it was pretty straightforward poker from that point.
The only other major hand after that was when I called in a three-way pot from the button with TJs and flopped ThJh3c. It was checked to me. I bet (of course) and the former WSOP bracelet winner shoved into me. I assumed he had a heart flush draw, probably the nut flush draw. I called. It turns out he had KhQh, which represented the open-ended straight flush draw. Yikes. That made him a 53% to 47% favorite. But I turned the Tc, making me a 96% favorite. I dodged his two outs on the river and won a nice pot to solidify my status as the table chip leader.
At the end of the day, I finished with 127,400 chips. My stretch goal going into the start of the day was 175,000, which would have put me solidly among the leaders going into Day 2. So I didn't quite make that, but I think I'm still doing pretty well. We'll see when the results are published.
Before I wrap up, I want to mention staking. I didn't really seek out any backing, but I did have eight friends and family members ask me to buy a piece of my action in this event. In total, I sold 22% of my $10,000 entry fee. I really hope I make some money for all of you who took a chance on me!
Thankfully, I get an "off" day for the Fourth of July. I'll do some recon work on my table mates for Day 2, then probably play some 1/2 or 1/3 NLH cash games on my off day. It's back to the grind on Thursday. And if we do OK, we'll come back on Saturday in a bid to get into the money.