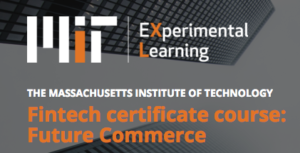 OK, so it's "only" a 12-week program, but I'm pretty excited to be be going back to school! I just signed up for the fintech (financial technologies) certificate course on future commerce at the Massachusetts Institute of Technology (MIT).
The program is going to focus on four areas:
Money and Payments
Markets
Marketplaces
Infrastructure
Obviously, we'll be diving into bitcoin, cryptocurrencies in general, and related blockchain technologies. The instructors and guest lecturers are pretty impressive. And I really look forward to networking with hundreds of my fellow classmates from around the world.
I'm sure I'll be posting more about this once classes start. For now, I'm trying to figure out how I'm going to come up with another 15-20 hours/week to do this.